Please note, this thrilling article contains photos that should make your back cold. Finally, not for everyone of course, since for some, sliding in these incredible water slides is only a joke.
However, even for the most adventurous, these atypical slides stand out from the crowd and provide sensations unique in the world. Be aware that the builders of these 10 attractions had the sole objective of raising your adrenaline to the maximum, so if the courage tells you, go to one of these parks.
You will discover in this list completely crazy slides: one takes you through a pool full of sharks, the other, so dizzying, propels you at more than 100 km / h!
It's crazy, but you need it if you want to taste the thrills and these slides are exactly what you need.
1 / The Aqua Drag Racer, Wet'n Wild Park, Orlando (USA)

Here is a perfect slide for groups of friends: get into one of the tubes and arrive first on arrival (the important thing is to get the first out of the colored metal tubes).
2 / Citta del Mare, Palermo (Italy)

It is not the most creepy on the list, but it is certainly the one that offers the most beautiful view. In addition, here, you fall directly into the Mediterranean Sea … A real privilege.
3 / Dolphin Plunge, Aquatica, Orlando (USA)

In this water park, you have the chance to descend and slide very quickly in transparent tubes through pools with Commerson dolphins (black and white).
4 / Insano, Fortaleza (Brazil)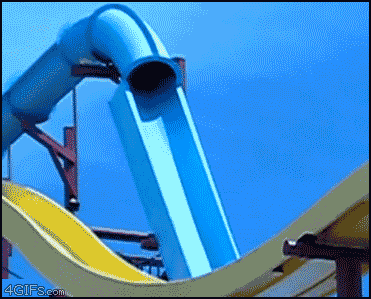 This incredible slide has a free fall of 50 meters which allows you to reach 100 km / h, and without the help of an air mat!
5 / Jumeirah Sceirah, Wild Wadi Waterpark (Dubai)

Here, you can slide with a partner, who leaves at the same time as you. Good, this slide puts you immediately "in the bath" by offering you a start on the wheel hats: a drop of 9 meters high! Then, of course, it's fun.
6 / L2, Wörgler Wasserwelten, Wörgl (Austria)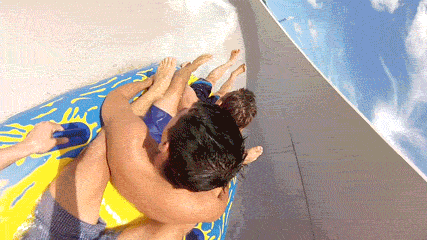 For this slide, you will need to take maximum speed to pass the two loopings properly. Yes you read correctly, it is a double loop and it is the only one on Earth.
7 / Leap of faith, Atlantis Paradise Island (Bahamas)


This slide is certainly one of the craziest on the list: you start not only with a fall of 18 meters but above all you end in a glass tube crossing a basin filled with sharks … Scary, isn't it?
8 / Royal Flush, BSR Cable Park, Waco (USA)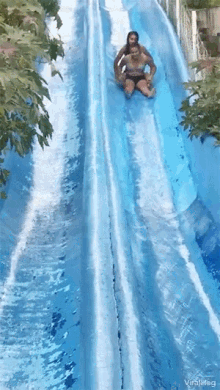 Here are springboard slides, which can propel you very very high. Moreover, life jackets are normally required. A video had also toured the internet, it showed young people performing incredible figures on these slides.
9 / Verrückt, Schlitterbahn Park, Kansas City (USA)

This slide is the highest in the world, at 51.4 meters. Which places it in the rank of the fastest toboggan in the world, since it is possible to descend to more than 100 km / h (104 km / h exactly). You must descend into an inflatable raft, 2 or 3 people (Not more than 230 kg). Thrills guaranteed!
10 / Summit Plummet, Blizzard Beach, Florida (USA)

This slide is at Walt Disney World, the start is at a height of 36.5 meters. You descend 110 meters long to reach almost 100 km / h. A display gives you your speed when you arrive.